Pompoms, Crochet and Loneliness
This week is Loneliness Awareness Week. People are raising awareness by shining a light on loneliness to help remove the stigma surrounding it. 
Hamlett Films is proud to collaborate with The Local Trust, sharing our expertise to run a mentoring programme across the UK to enable participants to tell their own important stories, across all media. This week we would like to feature the filmmaker of a really impressive new film about loneliness which is fresh out of the edit suite at the mentoring programme.
Shona and David's scheme to combat loneliness was hit badly by Covid, but online meetings, pompoms, crochet and eventually outdoor meetings have meant the world to participants.
Shona has made a raw, gripping and honest account of her experience of running the group through lockdown.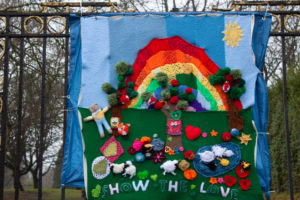 These photos show some of the pompoms and community collage that all the community pulled together to create during lockdown. Shona notes that one blind stroke patient who has the use of only one hand created the blue scarves that formed the background to the collage. "Look at it..", enthuses Shona, "..it's just community. That's what it is."